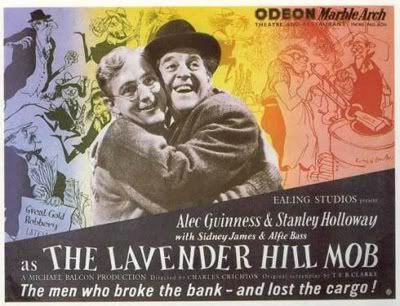 The world is ours
Just before Christmas I bought myself an
Ealing Comedies
boxset and last night I finally finished it off with
The Lavender Hill Mob
. So often overshadowed by
The Ladykillers
and
Kind Hearts and Coronets
,
The Lavender Hill Mob
is my favourite of the lot.
Set in 1950s London, Alec Guinness plays a reliable bank administrator with hopes of stealing the bullion he works with and retiring a millionaire. A chance meeting with Stanley Holloway's eccentric souvenir maker provides the spark of inspiration needed to get the riches.
A long and complicated plan is forged that involves luring a criminal into their plot, a fake kidnapping and a holiday abroad. What could go wrong?
Everything, naturally. What follows is a riotous, chaotic rampage through London and Paris with the gold. Passport officials, laughing school girls and bungling policemen combine to try to thwart them and there's an excellent, dizzying scene with the Eiffel Tower.
Timelessly funny.